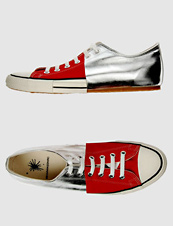 This weekend we were invited to a little rooftop bbq shindig. (We're sure you attended one or two as well.)
We wanted to wear something casual but not sloppy, something that said "I'm ready to meet new people" but not "Do you mind if I sleep on your couch?"
So, of course, we pulled out our new
Half Sneakers
from Mihara Yasuhiro.
We like to think of these puppies, fresh from a highly regarded Japanese designer who has done his own line for Puma, as the Harvey Dent/Two-Face of sneakers. Or, if you prefer, the reverse-mullet of footwear.
From the front, they appear to be a regular pair of low-top Chuck Taylors. But from the back, they look like a sort of futuristic silver bowling shoe. They're unified by a continuous rubber sole and normal laces. We've never seen a shoe change so drastically at the arch.
Why would you want to wear a silver/red/future/vintage/bowling shoe/sneaker hybrid?
We're not sure. But as we found out near the bbq grill, these inspire plenty of conversation…