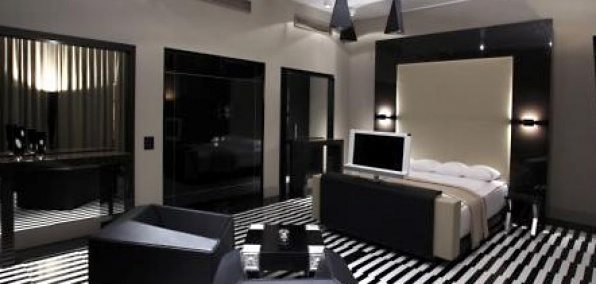 You've always suspected your perfect hotel room was out there waiting for you. Well, you were right. And as you probably guessed, it's in Poland.

Welcome to Blow Up Hall 5050, a concept-driven art hotel halfway between Berlin and Warsaw where the rooms are so distinctive, they choose you.

The brainchild of a local electronic artist, Blow Up Hall is less of a hotel than an inhabitable piece of interactive art. When you make your reservation, you'll be presented with three pictures, three colors and three numbers. Choose one of each and, depending on your spirit animal, you'll either find yourself in a zebra-striped lounge, a sterile-white space pod or a relatively conventional king-sized suite—if your spirit animal turns out to be an accountant.

Oh, and did we mention that you're being filmed at all times? Video feeds from around the hotel get chopped up for an interactive collage in the main lobby—thankfully, scrambled enough to keep your nighttime behavior secret. And naturally, room keys are too oppressive for this scene, so instead you'll get a pre-loaded iPhone tuned to turn on a TV screen outside your particular room. 

The rest of the amenities will all be at your touchscreen fingertips, including wifi, a freshly pressed change of clothing and something ominously referred to as a "breakfast experience."

Hopefully it involves food.