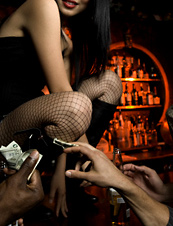 Like a real blonde, a genuinely new media voice is a rare thing. But once in a great while, a publication bursts onto the scene with enough verve, wit and old-fashioned pluck to change the genre's landscape forever.
The New Yorker
.
Esquire
.
Monocle
. And now,
Pumpsmag.com
.
Of course, where those rags draw inspiration from great men doing great things, Pumpsmag.com finds its muses in the many fine establishments where making it rain has nothing to do with the weather. It's Talk of the Club, not Talk of the Town—with an impeccably literate peek into the Bada Bings of the world.
It covers plenty of topics that you find yourself pondering between work meetings, e.g., the mechanics of the inverted pole helicopter or the latest trend in champagne room upholstery. There's also club ratings on a convenient pumps-or-flats scale, "pillow talk" from some of the city's greatest luminaries (who also happen to be dancers) and a column on tips—think stocks, not garter-belt fodder.  
But if you prefer to get a look up close, the fine ladies and gentlemen at Pumps are holding a soiree this very evening at Hudson Terrace, and we've snagged you a few tickets.
Drop us a line
, and you'll find yourself mingling with the club world's finest talents (writing and otherwise) before you know it.
Just bring a lot of ones.