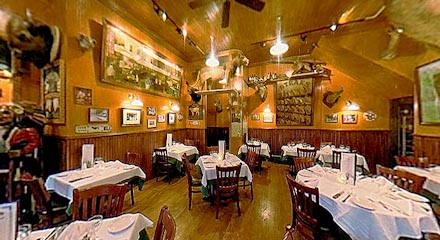 Sometimes big things come in small packages. Diamonds. Spud Webb. And now, Alonso's, a new ten-table steak house in Chelsea.

Named for Chef Alonso Tello, Alonso's is as simple, direct and to the point as you can get in a steak house.

Classic surf and turf entrees are served up in a room that could be best described as upscale rustic. There are so many animal heads hanging on the wall—bison, moose, gazelle, deer, ram, cow, bear and pheasant (for good measure)—that it feels like you are dining under the approving eye of the carnivore Board of Directors. Old farm signs, wooden floors and retro photographs round out the look.

As for the food, everything is prepared using USDA prime aged beef and fresh-from-the-market seafood. We loved the porterhouse (who doesn't love a porterhouse?), but we're really excited for the new fall game menu. Details are still top secret, but considering the decor, chances are you will be able to look your food directly in the eye.