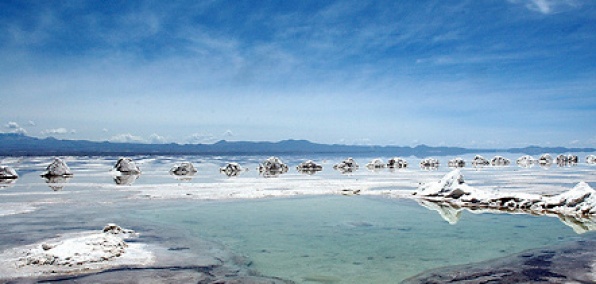 You've always considered yourself an explorer, even if your voyages never ventured past the reach of room service. But maybe it's time to try some mountains on for size.

Introducing the Uyuni Travesía, an eight-day trek through one of the highest plateaus in the world, running once a month starting this weekend.

This guided hike starts in the world's highest city—Potosí, Bolivia—before setting off for Salar de Uyuni, the world's largest salt flat and verifiably one of the coolest things you'll ever see. With a bit of luck, you'll happen by after a rain when all 4,000 square miles become a mirror-like pond just a few inches deep, unmarked by anything more than the occasional vicuña. We recommend a walk across it, climbing a nearby hill for panoramic sights, or just brushing up on your stone-skipping form. (Trust us, the vicuñas won't mind.)

From there, you'll have five more days on Bolivia's Altiplano, including a trek around the Tunupa Volcano, with rugged accommodations and your very own team of personal chefs-cum-sherpas to carry you over the steeper hills—pretty much what you're used to from city living, in fact. You'll finish up at a mountainside hotel where you'll dive into a hot spring massage parlor and maybe even a margarita or two…

Provided you can find some salt.