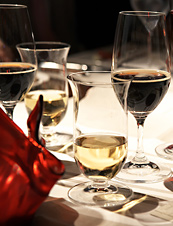 Congratulations. You've made it to Friday, which means the countdown to the weekend is underway (and has been since Monday).
Which got us thinking: if your job were your passion, you wouldn't need this two-day fix so bad.
And while being a professional racecar driver or the new Tiger Woods might not be realistic, we've found a job you'll want to test out: wine expert (and you're probably halfway there).
Say hello to
Sommelier for a Day
—a one-on-one training where you'll shadow master sommelier Emily Wines for a day at the Michelin-starred standout, Fifth Floor—ready to enlist you today.
Since you'll be working side by side with Wines (who, as one of the world's top female master sommeliers, has probably heard every joke in the book), this hands-on opportunity will hone your already stellar wine-drinking talents and put them to good use.
To maximize your wine-tasting experience, schedule your day during the week when you'll get to meet with winemakers and distributors to preview their latest releases (drink). And by night's end, you'll have tasted upwards of fifty wines, pulled bottles from the 10,000-deep cellar and sampled each of the dinner menu's dishes to narrow the 1,400-long list to a select few.
The final reward will be a late-night meal with a few bottles handpicked by Wines.
Or, maybe she'll let you do the honors.