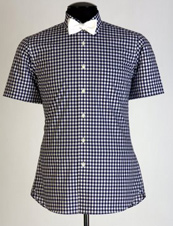 An expertly crafted custom dress shirt is a thing of timeless beauty.  
Which is nice. Maybe a bit boring, but nice.  
So we're thinking it's time you looked into something a little more unique, eccentric and maybe even downright crazy.  
Welcome to Ascot Chang's
secret vintage shirt library
, a collection of long-forgotten, brand-new, retro fabrics ready to be turned into your next one-of-a-kind shirt, available now.  
As familiar as you may be with Ascot's CPS house of nattiness and custom threads, you've never seen these bad boys. Hidden away for decades in their Hong Kong showroom, Ascot recently unearthed bolts of leftover shirting fabrics from the '50s (think early NASA and skinny Elvis), '60s (think paisleys and Sinatra), '70s (think Super Fly and a young Robbie Redford) and '80s (think Gekko and the two Coreys).
That means that if you've always wanted to look like Connery's Bond and not Craig's Bond, or if you're looking for vintage without having to think about the fact that you might be wearing Dom DeLuise's old guayabera, you can finally make a little retro magic.  
There's even a good assortment of flannels, plaids and other wilder patterns that the Ascot folks are happy to turn into dress shirts.  
Kurt Cobain would not approve.