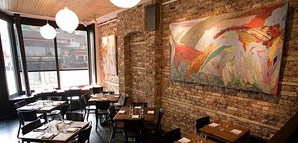 The Swiss have given us a lot of great things.
Cheese, knives and
Ursula Andress
, just to name a few.
Tomorrow they'll give us
Trestle on Tenth
, Swiss-born Ralf Kuettel's (Union Square Cafe, Zoë) first solo restaurant.
The 55-seat brick wall and wood-heavy space brings a bit of Swiss-influenced American cuisine right to the city, offering
Seared Salmon with Grated Horseradish
,
Crépinette of Pork Shoulder
, and
Gratinéed Pizokel
, best enjoyed with a bottle of Swiss wine (yes, the Swiss make wines) at one of the twenty outside walled garden seats.
The pretty flowers and rustic carriage house feel of the garden will warm your girl's heart and give her that mini-break from the city she's been wanting, all without actually requiring you to plan a city escape—creating a most peaceful and neutral solution.
Peace and neutrality from the Swiss?
Shocking, we know.