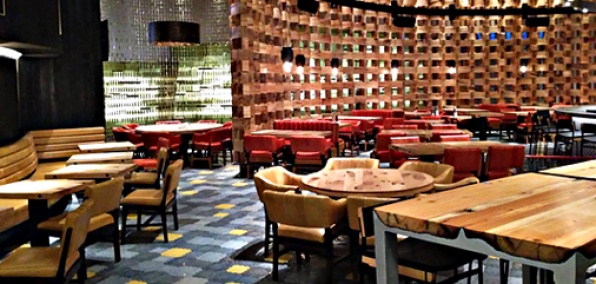 The Declaration of Independence.

President Bill Pullman's stirring pre-battle speech preceding humanity's great victory against the alien invasion.

And this place.

It's a toss-up as to which is the best thing to ever happen on the Fourth of July...

But we're going with Five50, a big old pizza joint at Aria where wood-fired pies and beer are the order of the day, opening on Independence Day near the Aria sportsbook.

Shawn McClain's behind this. And he's either a grizzled New York cop who doesn't die easy or a James Beard Award–winning chef from Chicago (hint: he's the chef one). Normally, he's into clean-white-plate masterpieces. But here, he's doing Neapolitan and Sicilian beauties cooked at the time-tested perfect temperature of... wait for it... 550 degrees.

These guys employ a full-time forager, who goes up and down the California coast hunting for the greatest possible toppings. So whatever you go with...  it's legit. The only decision you need to worry about is whether to bring your buddies to the communal table around the central bar or just hit up the takeout window for a post-carousal cheese fix. That, and which of the 12 craft brews you'll be washing it all down with.

Life's hard that way.