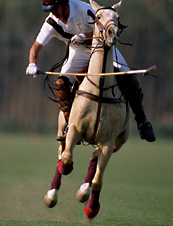 We hate to jinx it, but now that the International Olympic Committee has completed its tour of Chicago, we have a pretty good feeling about 2016.
So all that's left is finding you the appropriate sport. Naturally, we're thinking polo.
Welcome to the
Barrington Hills Polo Club
, now accepting new members for polo school, which starts Saturday.
This isn't your stereotypical North Shore country club, so leave the Grey Poupon (and the Grey Poupon jokes) at home.
Clocking in somewhere between blue-blood and blue-collar, BHPC is more like an equine version of a flag football league. You'll be happy to know that the all-volunteer, not-for-profit club is accredited by the United States Polo Association and has been breaking in first-time players since 1990 at its two facilities, each about an hour from downtown. There's a grassy polo field (think
Pretty Woman
) in Barrington Hills, and an indoor polo ground in Wauconda (where Saturday's lessons will be held).
You'll also be relieved to hear that the club supplies all the equipment—riding boots, helmet, knee pads and a spirited steed. Even the standard polo uniform is optional.
Before you mount, you'll be walked through the fundamentals of the game and the four basic mallet moves. Then climb up on Patricia, Carmen, Tequila, Whitney or Pebbles for group exercise.
Those are the names of the horses, by the way.