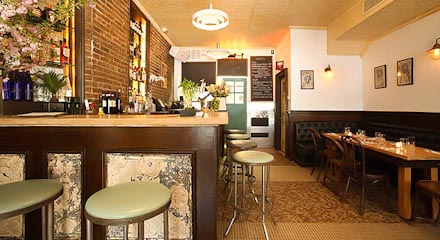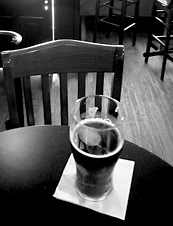 In times of woe, comfort is paramount.
And in case you haven't noticed, these are times of woe.
So allow us, then, to offer a little help in your brave, dignified quest for a spot of comfort—at least in the food department.
The Clerkenwell
, a cozy LES gastropub, opens to the public Sunday after a small friends-of-the-owner party tomorrow night.
Perfectly situated on a run of Clinton Street that we'll call International Comfort Food Alley (Italian: Falai; Irish: Donnybrook; American:
Fat Hippo
; Southern: Clinton St. Baking Company), the Clerk is an antique-looking LES version of British gastropub king the Spotted Pig, just without
Mangalitsas
, gnudi or Jay-Z.
Meaning you'll want to walk into the small, dimly lit, reclaimed-wood-and-tin-ceilinged space when you need a strong pint (Leffe's on tap) and a stronger 
IPA Ale And Beef Pie
before attacking some of the LES' less comforting haunts. Or better yet, a few late-night bar bites (they're serving small plates till 4) and a Guinness nightcap to wind things down.
The menu is chock full of these well-executed classics (
Yorkshire Toad In The Hole
,
Smoked Haddock
)—nothing that you'll have to work too hard to wrap your head around.
You know, just comfortable.