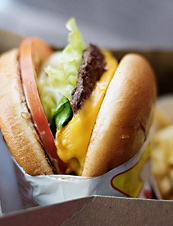 Much in life can be improved by carefully studying the greats.
Lincoln. King. The guy who invented the Double-Double.
Time to pull out the flash cards for some deep reading on the awe-inspiring California legend known as…
In-N-Out Burger
.
Author Stacy Perman is understandably obsessed with the burgers, made to order since the marriage between Esther and Harry Snyder resulted in a truly miraculous birth—the first In-N-Out, which began life as a tiny Baldwin Park shack in 1948. (They grow up so fast.) Before long, Bob Hope was eating them almost daily until he died at age 100, Beyoncé was dropping in on her way to the Oscars, and a clan of eight Vegas revelers, according to legend, polished off a 100x100. (That's 100 patties, 100 slices of cheese.)
And as for the practical applications of all this, there's plenty about how the owners of the fledgling shack grew it into an institution through unheard-of means like… consistent quality. And using profits from one outpost to open another one, without accruing debt. Minus some tragic familial squabbling later on, it's a business model we'd like to see translated throughout the land, from auto dealers to restaurants to banks.
You'll take that IRA animal-style.