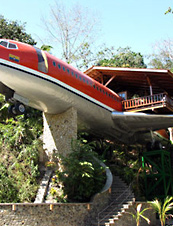 Renting a private plane definitely has its perks.
There's the teeming liquor supply, your very own in-flight movies and, of course, the freedom to do whatever you want, whenever you want, without fear of angry stewardesses or beef stroganoff.
And if the plane happens to be grounded in the Costa Rican rainforest… well, at least you're in a prime location.
Welcome to the
727 Fuselage Suite
, a 1965 Boeing 727 transformed into one of the most eye-catching hotel rooms on the Pacific, courtesy of the Hotel Costa Verde.
Naturally, it's not all seatbacks and tray tables. The plane's been refurbished into a full-blown master suite with air-conditioned bedrooms, a flat-screen TV and hardwood decks built over the wings, but the real show is out the window. The plane/suite is settled on a coastal bluff overlooking the beach, so you'll have stunning Pacific views just about everywhere, easy access to a jungle full of toucans and sloths, and a sandy beach just one flight of spiral stairs away.
And if you want to grab a quick drink with your fellow hotel-goers, you won't have to abandon the avionics motif. Costa Verde's main after-hours hangout is the
El Avion Bar
, a café/restaurant that serves up meals out of a decommissioned cargo plane left over from the Iran-Contra days.
Décor courtesy of Oliver North.