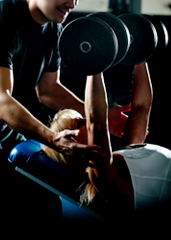 "Didn't have time."
"Oh, shoot. I forgot."
"The gym, uh... burned down. Yeah. Can you believe it?"
All excuses you've made for missing workouts.
But that won't fly anymore...
Submit to
SIN Workouts
, in which someone who knows more than you about fitness puts together and schedules your workouts. It's available now.
This is a fitness concierge. One who knows how to achieve that elusive seventh ab in a way that works around your schedule. (All you'll do is, you know, the exercise.)
It works like so: first, there's an in-person consultation to get measurements and discuss your beach-body-related hopes and dreams at your office, your home or wherever. You'll tell them when you can work out and how (tai chi Fridays, muay Thai Mondays, etc.). Then, they set everything up.
Each Sunday, they'll call or email to check your week's schedule and grill you about your progress. (Don't lie. They're talking to your instructors, too.) At month's end, you'll face-to-face again to remeasure and recap.
And because we want this for you, our compatriots at
UD Perks
are hooking you up with a one-month membership for way less than normal.
Think of it as a license to make gun-show jokes.