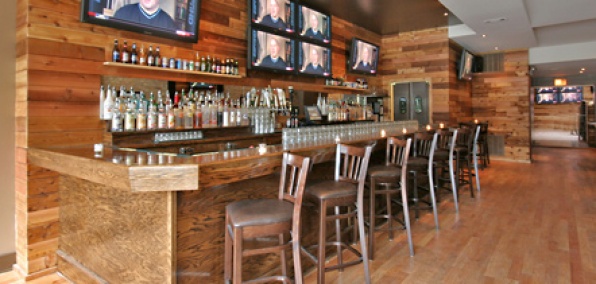 Some Cubs traditions you don't mess with.

Like that rousing, celebrity-led rendition of "Take Me Out to the Ball Game."

But some traditions, well… let's just say you wouldn't mind if they got an upgrade.

And since opening day at Wrigley is next Monday, let's start with your game-day haunt.

Introducing The Stretch Bar & Grill, a gleaming new sports tavern in Wrigleyville offering Cubs fans ice cold beer, bacon-wrapped hot dogs and a fresh start. (And if things start to go south on the season, consolation is sold by the quart.)

From the same team behind Goodbar and Cortland's Garage, the Stretch is where you'll want to duck in for a quick pre-Wrigley Bell's Oberon (or three) while the masses slosh around in the madhouses farther up Clark.

You'll also appreciate it as a friendly neighborhood pub on non-Cub nights—in addition to the solid beer list, there are creative comforts for you like bacon-wrapped, cheese-oozing Opening Day Dogs, pepper-jack burgers, chili lime fries and even some impressive chocolate ganache-dipped Twinkie truffles (perfect for your summer beach body).

And in a few weeks, a Sunday brunch will make the most of another innovation: cocktails served in Mason jars. After all, nothing beats $5 jugs of Bloody Marys.

At least nothing in the past 101 years has.