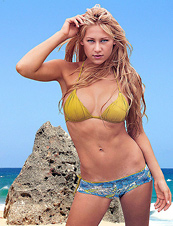 Anna Kournikova
is many things—semi-retired pro tennis player, part-time model and all-around uber-hot Miami resident. This weekend she's also your host and competitor at the second annual Nautica South Beach Triathlon, which raises money for charity. The blonde Russian expat with the long legs and the killer drop shot chatted with us about her ideal date, where she likes to hang out in the city and her newfound love of beer pong.
UD: Competing in a triathlon is pretty intense. Are you hoping to beat your time from last year?

AK: The triathlon last year was my first time ever doing one. I didn't know what to expect, but we had a great turnout and raised a lot of money. Honestly I don't remember my exact time. I just want to get out there and do the best I can. I'm just doing the running relay, which is four miles, so I think I can handle that.
UD: How do you stay fit now that you're not competing?

AK: I work out five times a week. I love working out, it's part of my lifestyle. For me it feels weird not to sweat.
UD: What do you like about living in Miami?

AK: I love the heat, I love the water. I love being able to jump on the boat with friends and relax. I love the mix of cultures here.
UD: What do you dislike about living here?

AK: What's not to like?
UD: Well, the traffic can be pretty bad.

AK: What? No way, the most you're in traffic is twenty minutes. It's nothing compared to LA. Have you been to LA? You'll be in the car for two hours on the highway.
UD: Which places are we most likely to find you hanging out in the city?

AK: It's funny because I go to the same few restaurants over and over. For me it's all about good food. I don't go to the trendy places, I go to the ones that have been around forever, the simple classic stuff. And when I go out I like to be able to hear people talk, and not scream over the music.
UD: Are you a party girl or a homebody?

AK: Lately we've been doing a lot of hanging out at home, doing barbecues. I've been living in Miami for twelve years now, so I'm not super-excited to go out all the time. I'm so used to the nightlife and the craziness that I don't really get into that stuff.
UD: We won't talk specifically about your personal life (something to do with someone named…Enrique), but what kind of guy do you go for?

AK: Well, right now I'm not looking for anything (laughs). But I love it when a person is driven and self-assured and polite to other people. And a sense of humor is really important.
UD: What's your idea of a sexy date?

AK: This will probably sound boring but dinner and a movie. Something relaxed and casual. I also love going on a boat. Whatever works for those two people is what's sexy. Sometimes you don't want to get dressed up and go out and other times you do.
UD: You recently beat Jimmy Fallon at beer pong on his show. Is that a new hobby?

AK: Oh that was really fun. It was my first time playing beer pong, but he said Serena had done it so I gave it a shot.
UD: And you won.

AK: Of course.