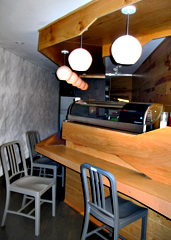 "We apologize, but you've eaten all the sushi. There's no more."
You're about to make someone tell you that...
Pack a mighty hunger for
New York Sushi Ko
, a very tiny LES spot where a chef's going to rock your world with heroic feats of sushi making, opening tomorrow. 
Eleven seats. That's all you're working with here. But that's okay. All the more room for the mounds of flawlessly sliced oceanic goodness you'll be consuming until you can consume no more. You can bring a date, sure. But—and we don't say this often—going alone might be the winning strategy here. Because you're about to go to work.
It opens at 8 o'clock, so take a little post-work time to reflect. Steel yourself. When you finally enter, there it is: the whole damn thing. Just a single blond-wooded wraparound sushi counter and the aforementioned seats. You've got three- and five-course options. And those are great. Nothing wrong with those. But your move is the unlimited option.
Picture it: you, a former Masa and Jewel Bako chef, several hours, some criminally soft toro prepared with blowtorch-dripped tuna fat, a stockade of sea urchin and your uncanny ability to want... more. By last call (2am), you should be in a good place, sushi-fulfillment-wise.
If not, we feel sorry for you.