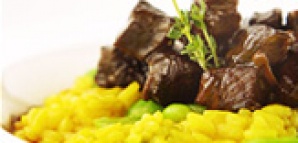 Finally. You now have the option of wining and dining your girl in a
tent
.
The literally named
InTent
opens tomorrow, a tiny Soho gem with what every girl wants (delicious exotic dishes and killer desserts) and what you want (reaping the benefits from giving a girl what she wants).
The front bar area is perfect for pre-dinner cocktails—we highly recommend ordering her the
Fancy Kalamansi
with white port, white cranberry juice and kalamansi sorbet (as if you couldn't tell from the rhyming name and fruity ingredients, there's a reason we don't recommend it for you).
Then head to the back dining room, whose quaint proportions and sleek Mediterranean details should elicit a few approving murmurs. Water cascades down a wall of rocks in the back, and a lush silk Bedouin-style tent hovers over the room. As for the food, it won't disappoint. Try the
Warm Curried Crab Napoleon
, the
Tagine Style Eggplant
or the
Turkey Osso Bucco
(done up with Moroccan spices). Finish off by feeding her some
Roasted Summer Apricots
(with saffron ice cream) and sit back and reap those benefits.
Here's hoping you'll get more than just some good intent.