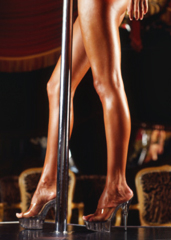 Today: the briefest of Greek history lessons.
Everyone was naked back then...
And now, for a reenactment.
Welcome to
The Horse Gentlemen's Club
, a massive columned temple where clothing is in extremely short supply and bottles aren't, now soft-open and grand opening Saturday.
This place used to be Crazy Horse Too (get it, like a sequel). It was legendary for its Grecian themes and liberal use of black light. In fact, noted author Jenna Jameson started her career there. Well, now, the Grecian-ness is back, goddesses and columns and all. It's Greek Revival, in a manner of speaking.
The guy who runs the joint is named Crazy Mike. And no, he's not looking to get you a great deal on an '89 Plymouth Sundance. He wants you to relax, let a complimentary limo bring you to the action, enjoy some champagne and watch Hestia and Athena work hard for the money.
And since you don't want to let Crazy Mike down, you and a medium-to-large group of weekenders will book, say, the Las Vegas Titans Package and... just sort of let it all happen. You'll be rushed through the front of the line to your VIP seats. You'll be supplied with bottles of your favorite liquor. You'll be given shout-outs by the DJ. And you'll bear witness to unspeakable acts of flexibility.
Also, stripping. You'll bear witness to stripping.