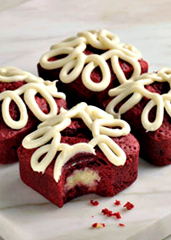 So we've got these friends out in California.
They make these brownies. Delicious brownies. The kind of universe-altering brownies that make you step back and think about your life in a whole new way.
No, not
those
kinds of brownies...
We're talking about the brownies from
Beverly Hills Brownie Company
, an exalted temple of baked goodness spreading its gospel of brownie perfection across the nation, online now.
First, let's rewind. One year ago,
a humble brownie shop opens near Rodeo Drive
. But they aren't normal brownies—no, they're individually baked in tiny brownie pans so that each retains optimal edge-crispiness and center-gooeyness. The masses love them. Scott Baio tweets about them. (
Really
.) And now: you're about to order them. (And then, probably eat them.)
The full brownie spectrum is on display here. Traditional chocolate brownies. Poppy seed brownies. Peanut brittle, red velvet and salted caramel brownies. You're free to mix and match. And you're also free to have them gift wrapped and sent to a special someone with a personalized note.
Best Flag Day present ever.