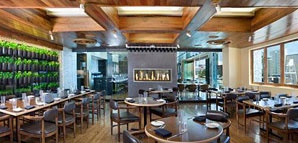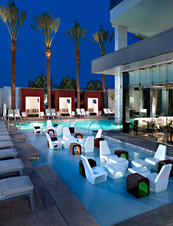 Brunch is of critical importance. At least in Vegas.
Part hangover remedy and part reminder that you need to eat something, brunch is usually your best indicator that a night is over, a new day dawns and you will (probably) make it through one more day.
So you need to get it right.   
Which means you'll want to swing by the just-coming-into-its-own
Simon
at Palms Place for a little poolside whimsy with a side of
Frosted Flake French Toast
. Let us explain…
Built as the brunch that Willy Wonka, Bart Simpson and the "entertainer" you met last night would conceive at their most blindingly hungover, you'll want to go early and settle in for a long afternoon of over-the-top-yet-hilarious consumption, and preferably by the pool where brunching is encouraged.
And when we say brunching, we mean food insanity. You'll want to start your order from the 
White Trash 
section of the menu to get back to normal a bit and take down some fried chicken and waffles, deviled eggs and pigs in blankets. After a dip in the pool, head back to the
Refreshing Beverage Station
, the
Candy Bar
and last but not least the
Bloody Mary Bar
.
Note: you may require multiple trips to this station.