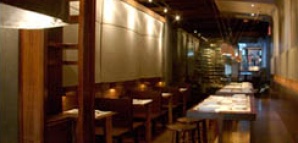 Apparently, a gem by any other name would still taste as good.
At least when it comes to restaurateur Lannie Ahn, whose short-lived but precious D'Or Ahn has just been reincarnated as
Anzu
—which opened last night as an equally precious and tasty Japanese tapas bar.
With identical décor (save for a new window up front), Anzu is still cozy, chic and date-ready. A new sharing-style traditional Japanese tapas menu shakes things up, though. From
Shima Aji Carpaccio
(thinly sliced jack fish with an incredible truffle ginger sauce) and
Hirame Usuzukuri
(melt-in-your-mouth fluke with a ponzu and daikon sauce you mix yourself) to the more adventuresome
Uni Ika Sugimori Zukuri
(West Coast sea urchin wrapped in sliced squid, covered in shredded Nori seaweed), you'll likely encounter some unusual combinations you've never seen before—and what sparks inspiration at the restaurant bodes well for later.
Chill
izakaya
-style with some Japanese beers, sake or shochu (ask Lannie to recommend her picks)—and for your girl, the
Yuzu Martini
(citrus vodka, triple sec, and honey).
And add another one to your date arsenal—or just rename the file.