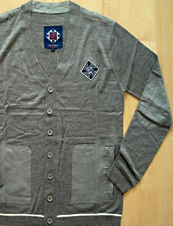 There's a certain preppiness in the air lately.
We think it might have something to do with the hordes of tennis fans making their way to the Sony Ericsson Open on Key Biscayne.
And while we're not suggesting you go all Wimbledon-white on us, we do think there's a wardrobe move you could make to adapt to your environment and still stand out…
Introducing cardigans from
King Stampede
, the ideal coverage for breezy nights spent watching a furry yellow ball get thwacked back and forth at the stadium… or any breezy, long-rally night on the town.
Both a bit country club and a bit urban, King Stampede is sort of like the sweater you'd wear if you enrolled in a tennis academy outfitted by Danger Mouse. The cardigans come in the vaguely nautical grey and navy, feature some rather kickass elbow patches and seem to evoke the cockiness of a 1980 John McEnroe.
And because they're made of lightweight wool, they'll keep you warm on those Miami nights when temperatures drop and the bay winds come in, but they're not so bulky that you couldn't tie it over your shoulders during the midday sun—or even drape it over the shoulders of your leggy mixed-doubles partner.
All in all, it's advantage you.