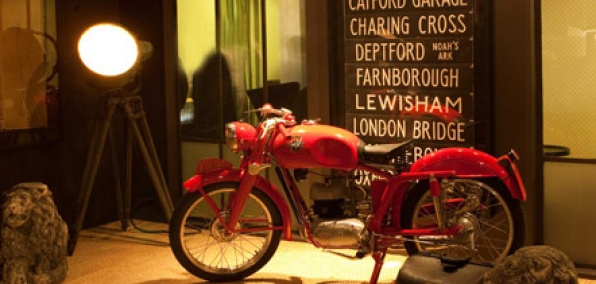 It's hard to argue with human nature.

Whether you call it the thrill of the hunt or the art of the chase—you're always up for a challenge.

So allow us to unveil Battersea, a new showroom tucked away in the depths of a century-old brick building in Potrero Hill selling eclectic wares, furniture and art unearthed from owner/designer Will Wick's globe-trotting adventures, open to the public now.

But first you have to find it... Try not to lose faith as you meander down the long hallway because soon you'll spy a fully restored, mint-condition cherry red '51 Agusta motorbike gleaming in the window—the first clue that you've arrived.

Named after an old power station in London, Battersea's interior is an industrial, exposed-brick cavern that comes off as Hemingway's garage of far-flung goodies. Inside, you'll find various found items from vintage model airplanes and poker sets to a driftwood deer-head mount and 20th-century Indian juggling clubs. You may even see a sailor's nude pinup with the words "don't touch" etched on her thigh.

Looking around some more, you'll spot a gigantic gearshift mold like the one Will found for the centerpiece of Epic Roasthouse's dining room.

But keep looking and your own centerpiece should reveal itself.