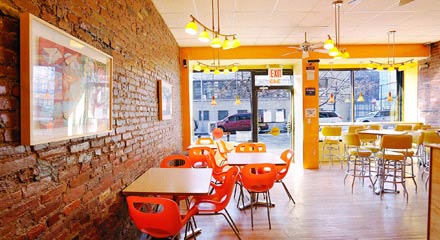 You've been hearing all the s'mac-talk about the new stroke-of-genius mac & cheese spot opening this Saturday on the East Village. And it all sounds pretty damn good.

Here's what you need to know:

At S'MAC, the basic dish has been creatively re-engineered via owners and, well, ex-engineers Sarita and Cesar Ekya. The couple spent nine months "researching" (read: eating) mac and cheese all around the city, and coming up with a recipe for the good stuff.

The result? A combination of the stovetop, broiling and baking methods of mac & chese creation (those engineers aren't lazy). They also use a twisted elbow pasta that they point out holds in the sauce better. Whole wheat pasta is also available (but in their words, if you're there for mac and cheese, why bother). While you're at it, you might want to add the optional bread crumb topping for the crunchy bite.

And while their basic menu is chock full of perfectly respectable options, we believe that true mac & cheese potential lies in the "self-engineering" route, where you can choose your cheese and add-ins.

We highly recommend our personal favorite, The Daddy: four-cheese sauce with a double of slab bacon, cut with some fresh basil, and of course, the bread crumbs.

Because we all know it ain't easy being cheesy.