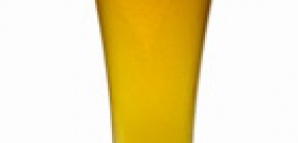 This weather has your woman craving ice cream like Lindsay Lohan craves a bathroom mirror. You, of course, just want an ice cold beer.
Lucky for you both, we've taken the liberty of assembling the short list of restaurants that kill these two cravings with one dish. You can thank us later.
RESTAURANT
:
Nobu
, 105 Hudson, 212-219-0500
THE DESSERT
: Sapporo Parfait
THE MIX
: Yes, chocolate and beer go together like
espresso and vodka
. Dig into Sapporo beer ice cream served with bittersweet chocolate sauce and almond praline.
RESTAURANT
:
Café Boulud
, 20 E. 76th St, 212-772-2600
THE DESSERT
: Cherry Beer Ice Cream
THE MIX
: She'll love the roasted cherries it's served over, you'll enjoy the ice cream made with Kriek cherry beer—or at least enjoy watching her eat all those cherries.
RESTAURANT
:
Room 4 Dessert
, 17 Cleveland Pl, 212-941-5405
THE DESSERT
: Beer Sorbet
THE MIX
: Made with white beer and grapefruit, the sorbet actually looks like a meringue, and gives you the sensation of eating the head of a beer. Which, come on, is totally a better sensation than drinking the beer.
RESTAURANT
:
Compass
, 208 W. 70th St, 212-875-8600
THE DESSERT
: Guinness Ice Cream
THE MIX
: Trick her into getting that crispy chocolate cake with marinated prunes—she'll never see that intense scoop of Guinness coming. Here's to summer—as if we needed another excuse for beer.