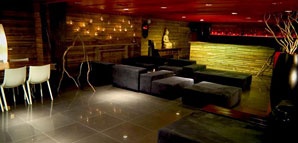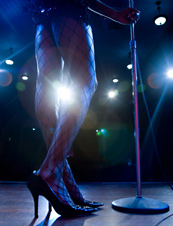 In terms of nightlife, we don't usually find ourselves flocking to Coral Gables.
But we've been keeping tabs on developments down there in Dapperville, and we can attest that things are about to get a lot more mischievous.
Introducing
Karaoke Klub at Red Koi Lounge
, your new spot to get your Jagger/Diamond on while feasting on sushi and thai curries, opening tomorrow night.
Karaoke Klub isn't so much a karaoke den as it is a secluded loft or attic (or even a garret, if you will). Located in the upstairs alcove of the Miracle Mile sushi spot, the Klub feels like an intimate lounge, with leather couches, low-slung tables and—yes—a fully stocked bar.
Which means you'll want to show up with your honey-voiced pals, work up some courage with a bit of sake or a few whiskey-based cocktails, and then take to the stage, belting out "Sweet Carolina" with everything you're made of.
The tone-deaf madness launches this Tuesday, coinciding (oddly enough) with a St. Patty's Day party that'll earn you and all your friends complimentary
Lucky Leprechaun
Midori shots upon arrival.
Consider it your shot at stardom.