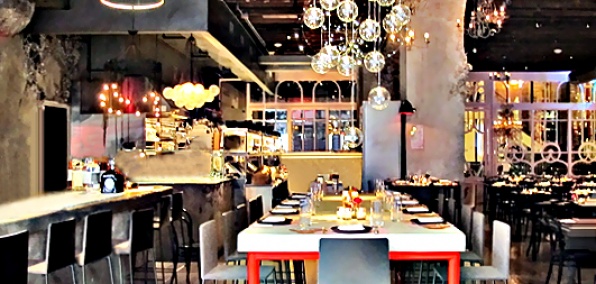 Who has two thumbs and wants tacos from Jean-Georges?
... Okay, now's when you point to yourself with your thumbs and wink.
And then we tell you about this.
It's
ABC Cocina
, the Latin-tinged twin of ABC Kitchen from Mr. Jean-Georges Vongerichten himself, opening tomorrow in Flatiron.
Think of this as the darker, sexier counterpoint to ABC Kitchen. It used to be Pipa, which was... also a Jean-Georges spot. But march of progress and all that.
If you've got a date coming up anytime soon, let's just say it's in your best interest to make it happen here. It's the kind of well-spiced small-plate paradise where you resolve to be good at sharing, hold an open palm over the menu and say, "Yeah,
just give us all this
." And by "all this," we're talking in part about glazed short rib tacos with habanero relish, a mezcal-cured salmon and wood-fired chorizo.
But you'll need a game plan. So once you enter, take in the orb-lit, vaguely ocean-like splendor (it's almost like they had world-class design resources to work with). To your left, the bar and a marble communal table. Someday, you'll take advantage of those. But not this day. On this day, you're staying right, beelining to one of those candlelit stand-alone two-tops near the back corner. Then you're digging into lobster-basil paella.
Remember: lift with your legs.