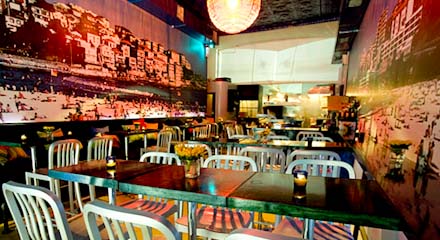 Getting to the beach used to mean having to hit the LIE.

Now you can skip the expressway and head down to the LES's Bondi Road.

The Aussie restaurant (from the Sunburnt Cow folks) doesn't officially open until the gas comes on later this week, but from now until Monday the surf 'n' sand spot is keeping everyone cool with free signature cocktails like the Bondi Breeze (muddled orange, Stoli, blue Curacao) and the ubiquitous but enjoyable Sand In Your Pants (pineapple and coconut rum, fresh guava, kiwi).

When they do fire up, they'll have a choice of eight fish (flown in twice weekly direct from Australia), including Tazmanian ocean trout and gold band snapper. For a "fresh catch" feel, you can personally pick out your fish from the glass counter and choose how to do it up—grilled, pan seared, breaded, deep fried, or battered with Australian Cooper's Beer (which goes down well with...a bottle of Australian Cooper's Beer).

If all this doesn't help you tap into that beach vibe, the wall-to-wall pictures of Australia's famed Bondi Beach, projector images of surfers, mounted surfboards, and staff wearing Rip Curl surf designs should help ensure you have a g'day...or night.