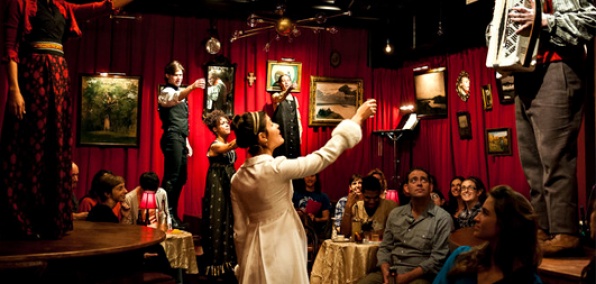 You know a bit about Tolstoy.

Stupendous beard-growing skills.

Didn't like government.

Could write a bit.

You didn't realize he was an electro-pop fan.

So that'll be today's lesson...

Meet Natasha, Pierre and the Great Comet of 1812, a massive electro-pop-dinner-theater interpretation of Tolstoy. Tickets are available now for a May 1 opening.

You probably heard about last fall's Midtown production of this—an opulent Moscow supper club where a section of War and Peace is done as a modern musical. This is that, only four times bigger, and with more seafood towers and caviar.

Winding, deep-red leather banquettes are completely surrounded by a full-room stage, which is bordered by red velvet curtains and framed art. The performance happens all around you—characters emerge from behind walls, pour you vodka shots, toast you. Some sing directly to you. Ask you on dates. You know, theater stuff.

All the while, you feast on pierogi, smoked salmon and black bread, and consume vodka. Unless you score a tsar table, which also involves you and seven friends never being without champagne and caviar.

It's good to be the tsar.