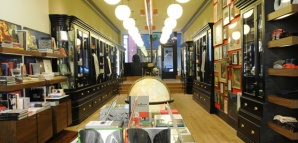 Everyone likes an original.

So we can appreciate a designer who sets up shop in the no-man's-land (save for a nearby Agent Provocateur) section of Union Square to peddle offbeat, classic British gear.

Classic dandy Paul Smith brings his rakish charm to a former Catholic bookstore on a drab stretch of Geary tomorrow.

You'll see the store as a mix of '50s modernism and late-Victorian charm—even the graphic red and orange panels outside work better than any sign to signal that you've found the right spot. Once inside, a wall of framed pictures bookmark the extensive shoe collection (from leather sneakers to moccasins and boat shoes), and a color-blocked sofa punches up the gentility.

Venture deeper inside to the suit room, paneled in mahogany (salvaged from a 19th-century bank), and as you browse the various jackets and ties you might also notice the turn-of-the-century dragon-legged table that would steal the show if only you weren't so fixated on that striped three-piece.

Throughout the shop, you'll also discover knickknacks, books and furniture for sale as well as a women's section…

But for her, you might want to find that nearby Agent...