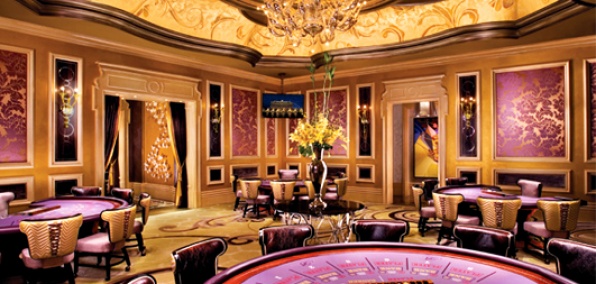 Tax season is over.

Hopefully, you got a nice return this year.

Hopefully, it was six-figures nice.

And you don't mind putting it all on red.

Begin fantasizing about Villa Privé, an opulent golden lair of invitation-only private high-rolling at the Bellagio, now open if you've got the green.

This is how you sate your baccarat jones if you're, say, the crown prince of a small but shrewd petrocracy. Or Billy Joel. Or the kind of person who requires an on-demand, butler-equipped lavender-and-gold gaming environment where they don't ask questions and you have 2,600 square feet to yourself. Well, yourself and the off-site regulators who are watching your every move via tiny video cameras.

If you have any hope of experiencing this, here's what has to happen: you'll need to be willing to play at least $300,000 (yes, of your own money) in a single gambling session. Apparently, it's a law or something. And you may want a reservation at one of the nine villa-level suites the Bellagio holds for VIPs. Now... just wait for the hotel to extend an offer of extravagant private gaming your way.

Graciously accept said offer. Then, let them know exactly how you want to lose your shirt which games you want to play, and they'll make it so.

Although Apples to Apples seems like a strange choice.