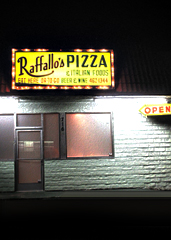 Everybody goes through that period of playing around. Being young. Being wild.
Especially the French.
But it's time to settle down. Time to get real. It's time... for Ludo Lefebvre to open a f**king restaurant already.
People: This. Is. Happening.
Prepare for the minuscule juggernaut called
Trois Mec
—no, really, you have to prepare, because you need to buy tickets if you ever hope to get inside—opening Thursday.
What's most critical here: there are just 26 seats. And it's Ludo we're talking about, the TV-friendly Frenchman behind LudoBites and the truck with the fried chicken. All that, plus the Animal guys as partners. Which means: yeah, a few people may want to try this.
So here's what you do: register on the website. As soon as they turn it on. That's happening any minute now. Then keep refreshing the website every five seconds until they activate the actual ticketing system. Once they're up and running, tickets will be released every other Friday for the following two weeks.
Then, one glorious night soon... you'll go to Raffallo's Pizza, that janky old spot at Melrose and Highland. The outside looks basically the same. Still says Raffallo's. Inside, though, it's all Trois Mec. There's... marble walls now. Wine bottles everywhere. It's a handsome little room where your tickets entitle you and your (supremely appreciative) date to a five-course tasting. Everybody is seated in two waves per night. Everybody eats the same thing. And every so often, the menu changes.
Adieu, tax refund.