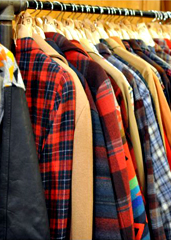 Say, you look like you could use a gratis beer.
And a new shirt or two for spring.
And a BKLYN Dry Goods vintage leather jacket.
And some made-in-California twill chinos from Taylor Stitch.
And an Almond surfboard.
And an Imperial aftershave infused with macadamia-nut oil.
And classic selvage jeans from Baldwin Denim.
And maybe a quick cup of Handsome Coffee.
And a bow tie from the Hill-side.
And a...
Okay, we'll stop there.
The point is, you need to mark off Saturday or Sunday for an urgent visit to
NorthernGrade
, an obscenely fleeting pop-up market stocked with all the American-made things you could possibly want, setting up shop in Downtown this weekend only.
What you'll find here, in a warehouse space a couple doors down from Apolis, is... well, a lot of things. (See above.) But in short, it's an oasis of pretty much every solid masculine/rugged/heritage-y/Americana-ish brand the world wants you to care about right now. And you do. Care. It's also way easier than using 17 freeways to hit 342 stores to get all this stuff separately.
And as you load up, you'll occasionally succumb to the sweet siren melodies of on-the-house coffee, beer, Coolhaus ice cream and Wurstküche sausage. You'll...
Mmm, Wurstküche.
Now we forgot what we were talking about.