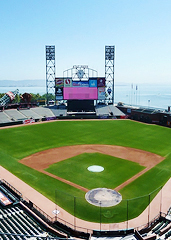 Big game Friday.
One might even call it the Giants' home opener.
And hey, you should totally go. Eat hot dogs. Watch Sandoval do things. Sit in that brand-new section behind home plate and grab a Bloody Mary made using the same recipe that Lefty O'Doul used back in 1958.
Which reminds us... there's some new stuff going on this season at
AT&T Park
, reopening Friday.
Below: three things you need to know before suiting up and taking to the stands.
That new section. It's miraculous...

Section 118, row 36, any seat between 1 and 8. That's where you'll want to be. There's an overhang above you (read: rain won't be a problem), a beer rail in front of you (read: railing beer won't be a problem) and a bunch of newly renovated suites two levels up from you (read: maybe sit there instead).
There's this old Bloody Mary at this new bar...

The bar: Lefty O'Doul's near the O'Doul Gate. The Bloody: created 55 years ago by the local baseball legend himself. There's also a new wine bar called Vintage 58. But, you know.
When you run out of peanuts and Cracker Jack...

Go to the Promenade Level. Then go to the Derby Grill. Then ask for their new
Hamburger Sandwich
. It's 12 ounces of ground chuck on a toasted baguette. And in case you missed it... 12 ounces.
Try not to blow a hammy.