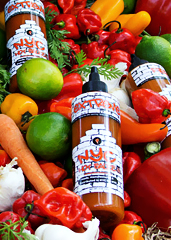 Today, a little thought experiment.
Imagine a world where you and the Cholula lady... have moved into a humble adobe hut together... and are raising little Cholulitos.
In the backyard, there's a pen where the sriracha rooster would roam. The Tapatío guy would supplant the milkman, delivering bottles of spicy sauce to your door each morning.
... No?
Okay, well, what about this...
It's the
NYC
Hot Sauce Expo
, and it's a hot sauce expo, and it's happening April 20 and 21 in Williamsburg. Oh, and we're giving you exclusive access to it through the magic of Perks, open bar included.
Here's the lowdown: you're looking at a wonderland of sauce tastings, wing cook-offs, fire-breathing humans and booze. There'll be more than 40 different hot sauce representatives from all over this great, intensely spicy nation of ours. An honest-to-God hot sauce awards show will happen. Your tongue will suffer marvelously.
It's all happening at East River State Park (the sweeping Manhattan views are gratis). So you just pack a steely stomach and a flask of heavy cream, and show up.
And since we like your face, our good friends at
UD Perks
are setting you up with all the tastings, plus on-the-house food and an open bar pouring bottomless Sixpoints and Blue Points.
There's also no shame in asking for milk.