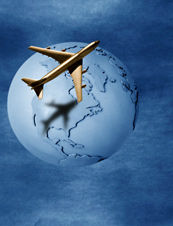 Your reality-show fantasies tend to involve making burgers with Padma, helping Heidi try on skirts and dating dozens of rose-crazy women at once.
Likewise, your idea of a vacation typically involves hiding away in some exotic bungalow, boat drink in hand, perfectly positioned to soak in the local… scenery.
But sometimes, when you hear about something as outrageous, adventurous and mildly insane as
Competitours
, you have to make some exceptions.
Think of Competitours as
The Amazing Race
, just not on tv. The setup: You and a teammate go on vacation, but from nine to five every day you participate in challenges forcing you to hop on European transportation, arrive at a brand-new city and complete/document zany tasks.
One day you could be on a Viking ship in Oslo shooting a fake commercial, the next day you could be BS-ing your way through a Berlin Wall presentation or a Torture Museum demo in Prague (which you obviously would have done anyway).
The crazier your method for conquering each challenge, the more points you'll rack up for your team—and when you inevitably emerge victorious, you'll bag an all-inclusive travel spree to one of 115 Starwood hotels anywhere in the world.
Which is what you wanted all along.