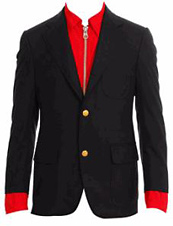 Forward momentum is always a good thing. But occasionally, so is reversing.
Like
Junya Watanabe Comme des Garçons Man
, whose new collaborations with Brooks Brothers and Levi's have redefined the once-treacherous item known as the reversible jacket.
To see it for yourself, you'll have to do a little wandering around the maze that is Fred Segal on Melrose. Past the blended Arnold Palmers in Mauro's Cafe, up the stairs and through a few rooms to the left, you'll find a mannequin sporting what first appears to be a nondescript blazer, much like the other blazers in the area. Nice enough. Classic navy blue. But in this strange fashion vortex, each of these limited-editions turns inside-out to make a new jacket entirely—and not just in that cheesy, hey-it's-a-different-color way.
One model turns into a jaunty plaid windbreaker. Another becomes a slick red Levi's number, cut like a jean jacket…except for the slick red-ness. And if you think the oversized, very Euro-smoker-in-the-rain collar on a third has nowhere to go, well, it does—it buttons in upon itself to become a bright blue raincoat. Which might not be all that practical for LA…
But who knows where the future will take you.