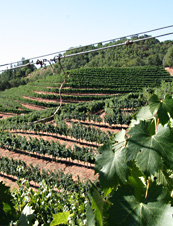 It's high time someone took a stand and realized that laziness does not exclude the refined palate.
Which is why you'll want to know about Berkeley-based
Two Mile Wines' At-Home Tastings
—the pizza delivery of wine tasting (with the delivery guy being an expert winemaker/sommelier).
You might not be familiar with Two Mile since they only sell their limited production wine from a transformed garage…of a winery. But don't let the laid-back vibe throw you off; they source some of the best grapes around from vineyards like Unti and Polesky-Lentz in Dry Creek, and handcraft bold reds and whites for red-wine drinkers.
Gather a select group of your favorite wine swillers and commission Two Mile to come over with seven or so bottles of their just-released, not-yet-released or rare wines like the "owner's only" Syrah.
You can go all-out with a winemaker pairing dinner (they'll provide the wine and winemaker), or set it up more like a tasting room at a winery—if you just want to focus on drinking.
Or you could just order a pizza.