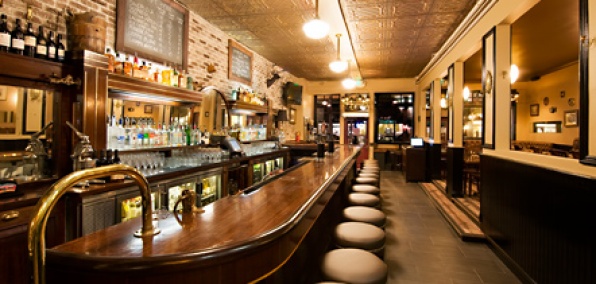 When it comes to neighborhood pubs, the best ones feel like home.

You want a place where everyone knows your name… or at least that you always like to start with a Manhattan.

Introducing The Tipsy Pig, a casual British-inspired gastro-tavern brought to you by the guys from Mamacita and Umami, opening tomorrow on Chestnut Street.

Named after the fall tradition of pigs getting drunk from eating fermented apples (we promise we're not referring to you), this pub has the rustic appeal of a country tavern. It's a spot where you could grab brunch with your mom sitting in a round leather banquette nestled into the front window of the living room, drink with a small crew at the original 1930s ten-seater bar or cozy up with your date among the stacks of old books in the library.

Grab one of the 50 craft brews by the draft or bottle—we like the house Tipsy Pig Brew, which goes down nicely with either the Chimay-Braised Pulled Pork Sliders or Fried Chicken and Mash.

And if it's a sunny day, spend it under the citrus trees in the back patio with a signature Sazerac, or a few.

Because at the end of the day, there's no place like home.