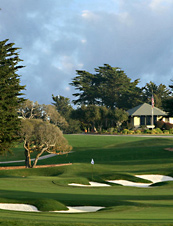 Heading into the holiday-less stretch leading up to Memorial Day can bring on some major anxiety.
Allow us to suggest you break it down one golf-filled weekend at a time.
And since you've already played Poppy Hills and Spyglass, we've dug up details on
Bayonet and Black Horse
—36 newly restored holes of side-by-side public golf courses on a former military base in Monterey—open now.
Aside from entering the course on Light Fighter Drive, you won't see any military-esque remnants from the former Fort Ord days. And you can rest assured that the only action these bunkers see involves errant shots.
Start at Bayonet, and if you happen to have a mean slice, you'll make easy work of the uphill, dogleg right, 476-yard, par-4 ninth hole. You'll also be pleased to learn that the sharp doglegs in holes eleven through fifteen, aka "Combat Corner
,"
were softened during the renovation. As for Black Horse, its undulating greens and large serrated-edged bunkers overlooking the Bay will put your putting game to the test.
With rates at about a third of the nearby courses, you can make a weekend of it and still have cash to spare for a few rounds on the 19th hole.
Which is always the most important hole.