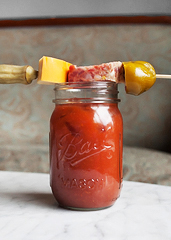 We know. We've talked a lot about St. Patrick's Day already this week.
But we promise. This is our final word on corned beef, whiskey and beer.
In fact, this may be
the
final word on corned beef, whiskey and beer.
Introducing the
Irish Mary
, a heretofore unheard-of type of Bloody Mary that uses corned-beef-impregnated whiskey instead of vodka, available tomorrow only at Old Town Social.
Yes, there are some seriously mind-bending concepts at play here. Okay, it's maybe just that whole corned-beef-impregnated-whiskey thing. But the meat artists at Old Town tinkered in their studio to perfect a technique that somehow imparts the flavors of real corned beef into real Jameson Irish whiskey. The result is nothing less than a miracle of meat-and-booze transmogrification.
As for the Bloody Mary mix, it's Old Town's usual blend of spices and magic, delivered with a skewer of pickled okra, prosciutto and soppressata. And you'll chase it all down with six ounces of Murphy's Irish Stout.
Obviously, the efficiencies created by consuming beer, whiskey and corned beef in one fell swoop will be studied by supply-chain managers, economists and assorted drunk uncles for years to come.
Just remember: you were there first.