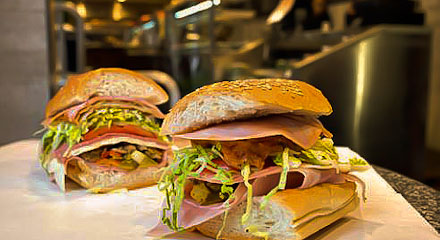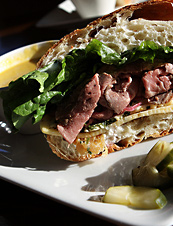 You heard it here first: sandwiches are back.  
And when we say sandwiches are back, we mean
Defonte's
, the Red Hook Italian sandwich mecca, opens its first Manhattan shop on Monday in Gramercy.  
Now, usually we wouldn't get all woo-hoo about sandwiches, but let's put this in perspective: this is like Rao's opening up a red sauce joint on the Lower East Side. For the past 87 years, four generations of an old-school Brooklyn Italian family brought down from heaven to turn meat/cheese/bread into something beautiful have been roasting meats in-house every morning, hand-crafting their own mozzarella daily and perfecting the art of frying an eggplant.
And while you've probably considered an afternoon sojourn to Red Hook for the perfect Steak Pizzaiola hero or a potato, egg and mozzarella sub, odds are you settled for something endorsed by a formerly fat guy named Jared. No longer.  
Amble in on a Saturday afternoon (say hello to Vinny) and you'll find as simple a setup as you're ever going to see: glass deli case, meat slicer and a few hightops. But don't let the generic deli looks fool you: everything, from the famous roast beef to the laundry list of side salads (potato, macaroni, green olive, marinated mushroom…), is cooked in-house.  
And they're even teaming up with Clinton Street Baking Company chef Neil Kleinberg for a few rotating special sandwiches...
Don't expect any collaborations with Jared anytime soon.