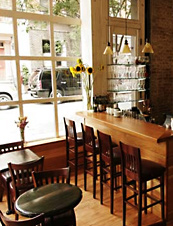 Shrinkage isn't a good thing.
Except when it comes to little neighborhood restaurants where fewer seats means one less elbow in your ricotta cavatelli.
That was the thinking of Gabriel Stulman, who just knocked another four seats out of his now 24-seat West Village gem,
The Little Owl
, opening this week. He wanted people to be able to "roll back their shoulders, stretch out their legs and kick up their feet."
And enjoy some damn good food while they're at it.
The miniscule joint already has "favorite spot" written all over it. Simple hardwood tabletops, an open kitchen and some cracking paint add to a quaint European feel, while R&B beats will keep things lively. The menu (courtesy of Joey Campanaro from The Harrison) has unique, Mediterranean-style dishes like
Pork Chops with Parmesan Butter Beans
(making all other beans suddenly obsolete),
Roasted Sardines
, and
Gravy Meatball Sliders
.
Reservations are only taken for parties of four or more, but for those chill first dates you can wait on the built-out cedar box steps near the door with some glasses of wine and Serrano ham, sliced from a giant leg of iberico pig on a butcher block near the kitchen.
An intimate space and a huge hog—where else could you say that on a date without getting slapped...