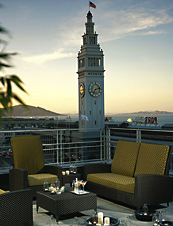 Sometimes you have to look past the obvious.
For instance, where other people see a new hotel room with gorgeous Bay views, we see your next epic party.
Which is why you'll want to know about Hotel Vitale's Terrace Studios—three new waterfront suites, each with rooftop decks overlooking the water—freshly remodeled with the express purpose of entertaining (or simply put: drinking).
Taking reservations now, these indoor/outdoor studios—big enough for you and your crew, but cozy enough for you and a date—are like your home away from home, if you had around-the-clock room service and a wraparound terrace with views of the Ferry Building, Alcatraz and Angel Island.
Ideally, you'd book the room for that sunny afternoon when everyone else is flocking to the few prize outdoor spots in the city. Start at the patio at Americano with a martini or two, then once you gather the appropriate crowd, move things upstairs and keep the cocktails flowing on your private terrace.
If it's a romantic getaway, you'll be happy to know that each studio is equipped with a queen-sized Murphy bed and flat-screen TV (and don't forget about the 24-hour room service).
Because breakfast tastes better in bed.