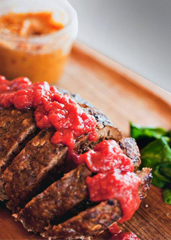 Meet Nick Wernimont.
He's a mixed-martial-arts fighter with a 16-0 record.
He's parachuted 130 times. (Successfully.)
He's run with the bulls in Pamplona. (Nary a gore mark on him.)
Now he's bored. He wants new challenges. He wants adventure. He wants... to make your dinner.
Hence:
Factor 75
, a new meal-delivery service designed to help you stay lean, mean and ready to run with the bulls—or defend that parking space you just shoveled—taking orders now.
Now, no offense to MMA fighters—repeat: no offense—but they're known more for their face-kicking skills than their cooking skills. So Nick's brought in a ringer, the chef from Jam, Anthony Fiore, to help with the menu. Advisors like the strength-and-conditioning coach from Duke University and a nutrition PhD help round out the team. Bottom line: your turkey chili is thoroughly, thoroughly vetted.
The process: after choosing your meals online, someone rings your doorbell within 48 hours and leaves you with a week's supply of kale salads, beef stews, fish tacos and sloppy turkeys. So after you get home from the gym, you can be sure dinner consists of a performance-enhancing mix of lean protein, low-glycemic carbs, heart-healthy fats and antioxidants.
If only Lance Armstrong had gone the kale route.