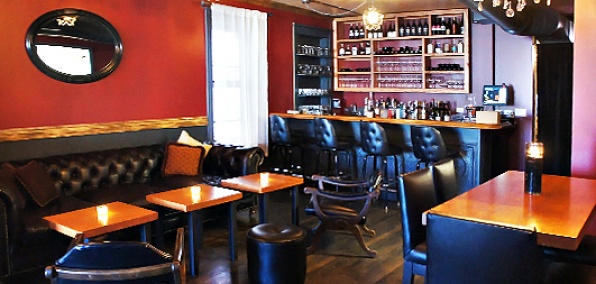 "Come upstairs for a nightcap."

In the realm of evening-extending euphemisms, that one's a little trite. So our suggestion for the sophisticated world of the 21st century:

"Come upstairs for a nightcap. And maybe a little ham."

Ham being what you call... ham.

Try it out at L'étage, a weekend-only upstairs lounge in Andersonville filled with all the wine, couches, chandeliers and potted meats an evening of romance calls for.

To find this spot, head to Andersonville boîte Brasserie 54 by LM. Instead of turning left into the dining room, grab your date by the hand and go straight up the flight of stairs. Push open the door, and Brasserie 54's rustic French theme gives way to a dim world of candlelit tables and Lillet Blanc being sipped from the deep recesses of an antique chesterfield sofa.

The wine list is light and breezy, a collection of reds, whites and, should the need arise, a glass of sparkling rosé. Should the need arise for a Stormy Gale (Cajun-spiced rum, ginger beer and black pepper), you're also in safe harbor.

As the night progresses, your date may clear her throat and primly say something like, "I believe an offer of ham was made." Then you'll majestically order thin-sliced meat savories, aged cheddar and a little country pâté.

You never renege on promises of meat.