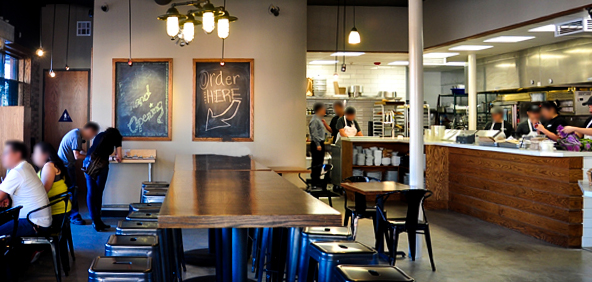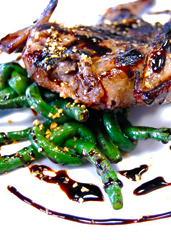 Q: When is a restaurant not a restaurant?
A: When it's two restaurants.
Wrap your head around a confounding yet enticing new two-in-one spot called
Fickle
and
The Sandwich Smith
—yes, there's Fickle, and then there's the Sandwich Smith, but they both inhabit the same space—now open in Little Tokyo.
You might be a little confused, so let's work through this together. Say it's noon-ish and you're hungry for a sandwich. (This is not unprecedented.) Come here then and you're in the Sandwich Smith: a welcoming little den of exposed pipes, concrete floors and lots of sunlight streaming in through the windows. Streaming onto sandwiches.
Grab a clipboard and tick off the ingredients that you want to pile together—pulled pork, bacon coleslaw, housemade donut bun—and then take a seat and eat that sandwich. Frankly, that would be enough. See above re: donut bun.
But come back after dark, and... it'll look pretty much exactly the same. You may even smell a final vestige of donut essence. But yeah, it's dark. Maybe 0.003% more romantic for a super-low-key casual date. Congratulations, you're in Fickle. Same chef, only now he's more in the mood to serve you grilled quail, molasses pork belly and/or a rib eye.
Luckily, you're in the mood to let him.