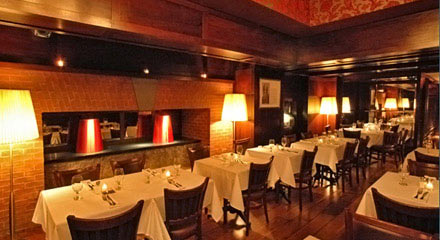 There are several places in your life that you wish were made more conducive to alcohol intake. Say, the post office, the DMV, your dentist's office or the bank.

At least one of these wishes is about to be realized.

On a shadowed side-street deep in a brass 'hood lies the old abandoned US Realty Bank vault. Look for the entrance on Cedar behind some scaffolding, and head down a set of steps to a 35 ton round steel door, behind which lies a giant underground vault. Inside, although we were disappointed to find no gold bullion lying around, we were still pleased to find a haven unlike anything in the neighborhood—the new Trinity Lounge.

The old world Wall-Street-era vault has been transformed into a sleek lounge and restaurant encased with thick steel walls that could keep out spraying bullets (a perfect hideaway from errant exes and associates from deals gone bad). Sit at the bar or in a leather-covered booth to survey the vault's "assets" while a DJ spins eclectic Euro music. An old caged elevator holds the booze, and behind a second vault door toward the back, there's a private room with a separate bar for private parties.

Kick back with some hard-to-find beers from around the world, wines, champagnes, and a menu of classic comfort food that includes everything from burgers to braised short ribs.

This is one place, well...worth keeping in the vault.