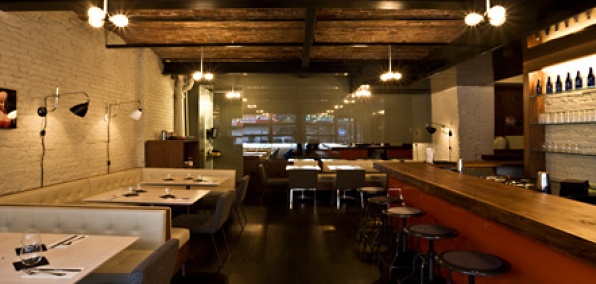 Sometimes things just fall into place.
 
Like when the right restaurant opens in the right neighborhood at the right time. And especially when said restaurant serves food till 4 and will happily pour you a stiff Manhattan. Fat Hippo, a cheap new American comfort food diner and cocktail living room on a loaded stretch of Clinton Street, opens Friday.

Opened by three friends down the block from old favorites Frankies Spuntino, Falai and Clinton Street Bakery, Fat Hippo is the kind of drop-by-whenever resto you can always use one more of on the LES. Perfect for the quick 10pm bite-and-a-beer before a night of rabblerousing or for a 3am bite-and-a-beer post-rabblerousing (it's versatile like that), the menu is chock full of the kind of food you start thinking about right before last call (Burger Fondue, Steak and Eggs).

Stop in late-night and you'll find yourself in what seems like the cozy, modern apartment of a friend in the neighborhood, if only your friend happened to be an expert mixologist who makes his own sodas and has a penchant for whipping up turkey meatloaf at three in the morning.
 
They won't be serving booze for another week and a half, but until then feel free to bring your own.
 
But leave the meatloaf to them.